It's no secret that global lockdowns caused by COVID-19 impacted the way we connect and communicate in 2020, personally and professionally. Internet users now spend 32% of their time on streaming devices and platforms, while businesses use live streaming apps and websites for virtual meetings that remote employees can easily attend.
Furthermore, marketers who would traditionally explain a product or service to a customer in person are utilizing live video to accomplish this. In fact, 94% of marketers found video content useful for explaining a product or service.
Appealing to both those who create and consume content, video streaming increased engagement and helped audiences feel a much-needed connection to each other, and their favorite brands this year. But streaming video isn't new.
From boutique online shops to big box companies, brands have been using live video as a marketing tool long before the pandemic. The events of 2020, however, fast-tracked video streaming into the mainstream, and the benefits to real-time video became abundantly clear. An accessible tool for exposing organizations to a worldwide internet audience that they may not have reached before, live video is easy to both create and consume. It's also effective for real-time engagement with existing and potential customers.
It's safe to say that live streaming content is only going to grow in popularity as a marketing tool. Ready to make video streaming a key player in your 2021 marketing campaigns?
Check out the top 6 video-streaming campaigns of 2020 for some excellent examples of how branded real-time video can be used to broaden the reach of your brand and improve your bottom line: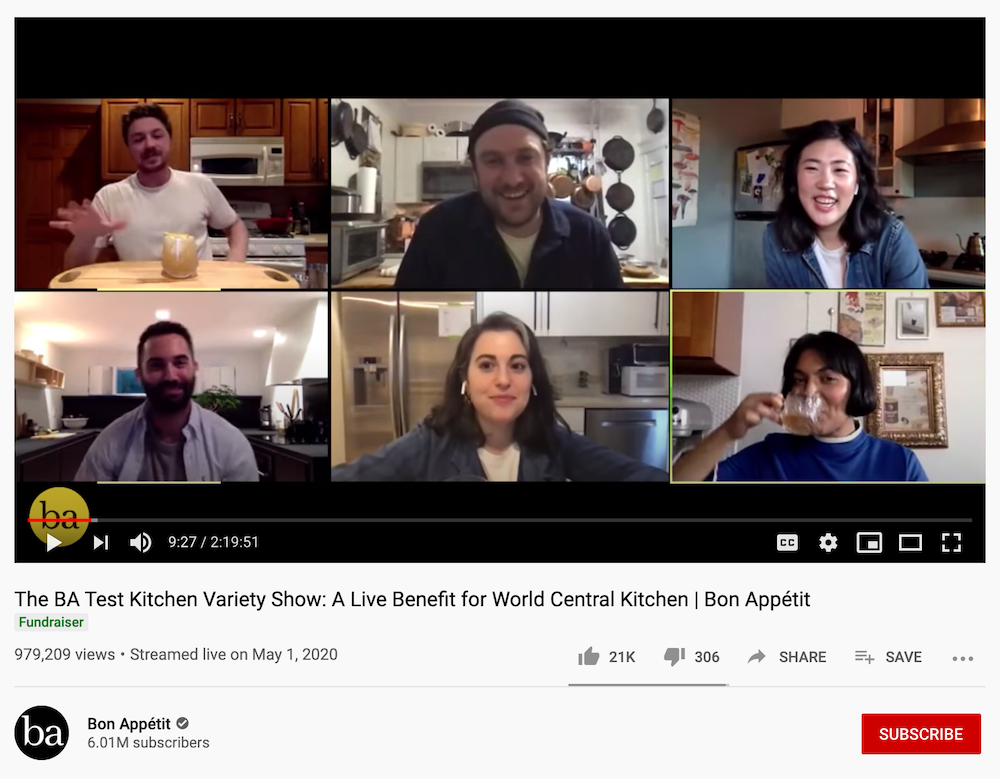 6) Bon Appétit's Live Stream: The BA Test Kitchen Variety Show and Fundraiser
Making everything from fresh baked bread to lasagna noodles was a common way to beat boredom and find comfort during uncertain times for many families stuck at home this year, which may explain why the Test Kitchen Variety Show that Bon Appétit Magazine streamed live on YouTube earlier this year met with such success.
Bon Appétit was already in the habit of keeping their YouTube channel well stocked with new entertaining and educational videos several times a week. BA then used an established subscriber audience to their advantage, streaming "The BA Test Kitchen Variety Show" live in May.
Bon Appétit's Test Kitchen crew kept viewers entertained with the fun, relaxed, and spontaneous feel of their live streams from dining rooms, living rooms, and naturally, kitchens. But don't be fooled by the laid-back vibe. The two-hour live variety show had a well-defined goal and an intentional agenda.
BA aimed to use the live show to both engage with viewers stuck at home on everything food related while simultaneously raising money for several pandemic-related causes, including providing food for healthcare workers on the frontline, delivering fresh meals to those in need, and helping restaurants open back up again.
Bon Appétit then developed a thorough agenda to keep the variety show on track once it went live. To do so, cooking challenges, cocktail hour, fundraising updates, games, and tutorials were all included in the agenda.
The result? The well-thought out live variety show was a success, with more than one million views, 21K likes, over 1K comments, and over $130K raised for World Central Kitchen. By implementing an agenda, BA ensured top of mind awareness while building trust in their brand through the fundraising initiative.
To inspire your own followers and improve engagement, take the time to tailor an agenda and go over it with your brand ambassadors or video hosts well before the show is streamed live.
5) Carolina Herrera's Live Streamed Fashion Show
Despite this year's setbacks, the show must go on! Specifically, Carolina Herrera's live streamed fashion shows. When the global fashion brand began streaming shows around 2013, however, their relationship with video streaming was a rocky one. Season after season, the Carolina Herrera team was running into the same issues with poor quality video and stream that didn't go live as scheduled.
After a few lackluster real-time video attempts, the team decided that they would hold off on streaming the Fall 2015 show online, a decision that was ultimately regrettable. As viewers couldn't be part of the experience while it was occurring, there was notably less talk surrounding the fashion show and even a substantial decrease in social media activity on C.H. platforms.
Eventually, the Carolina Herrera team opted to give video streaming another try, partnering with Vimeo for the 2016 New York Fashion Week show. The clear, real-time live stream led to 51.2m impressions, garnered the designer brand 60K new followers on social media, and earned the Wall Street Journal title "Best live streaming experience in all of New York Fashion Week."
Since witnessing the pivotal role that live video can play in a successful marketing strategy, the luxury brand has continued to live stream their runway shows, typically from New York City venues. This year was no exception. The brand streamed the Fall/Winter 2020 show in February, and the result was significantly more talk around the fashion show before, during, and after it streams.
For live video to work its magic, it's imperative that the venue your organization is streaming from has strong internet or wifi access to prevent any problems with buffering or connectivity. Take it from some glamorous pros who learned the hard way: If you need to create buzz about an event, harness the power of video streaming by making it the center of your marketing campaign. And by all means, find a platform that delivers high-quality video, and last but certainly not least… dependable internet!
4) Peloton's On-Demand, Streamed Workout Videos
With many gyms closed indefinitely, home workouts have never been so popular. And thanks to companies offering virtual training, streaming workouts from the comfort of our homes has never been so easy.
Although hardly the first to introduce at-home workouts based on branded fitness equipment, Peloton does come to mind as the fitness company that managed to build the most notable following in 2020. With over one million subscribers to its streaming classes and a 172% spike in sales this year, the at-home fitness company recently announced its first-ever quarterly profit.
Initially, Peloton was a spin class streaming app that could be used by owners of its high-end stationary bicycles. To this day, the Peloton bikes remain remarkably popular among households across the country and the brand's new treadmill is making waves in a crowded fitness market.
But Peloton is not just for runners and riders. The company's library of at-home, on-demand content offers members with a web browser, tablet, or smartphone, access to thousands of instructor-led, immersive classes beyond cycling that can be done with and without equipment. An array of streamable workouts, including tutorials on strength training, yoga, running, meditation, and stretching are available, as well as classes focusing on cardio, core, weight lifting, and more.
During the beginning of the pandemic, Peloton wisely offered new app subscribers a three-month free trial subscription in an effort to make it easier to access wellness content. After that, the app is $12.99 per month, and considering that the churn rate in the quarter was a mere 0.52%, users are clearly sticking around once the pay period kicks in.
With the Peloton Digital Membership, users can take one of the several live classes that air every day, or get their sweat on by participating in the ever-growing backlog of on-demand videos.
The moral of the story? Offer users options if they can't be part of a live-streamed event.
Users will appreciate being able to access a recording post-stream, when it's convenient to them.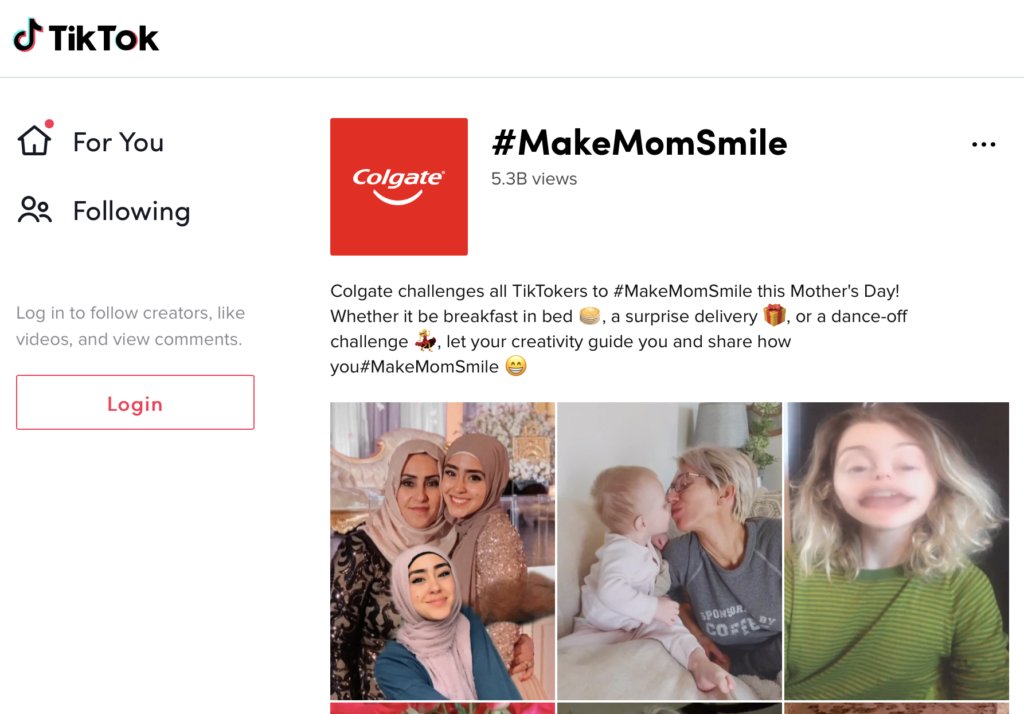 3) Colgate's #MakeMomSmile Challenge
Starting a viral trend based on user-generated content (UGC) is one approach to creating brand awareness quickly, without spending a fortune on advertising. And Colgate's #MakeMomSmile challenge stands out as the most heart-warming viral trend initiative of the year.
Last year, TikTok launched their TikTok Live feature, enabling content creators to live stream videos and take virtual challenges to a whole new level. The feature, which lets TikTokers connect with followers in real-time using comments, has been well received by users and marketers alike.
With the #MakeMomSmile video campaign, Colgate-Palmolive tapped into the vigorous growth of TikTok challenges. Driven by organic and sponsored content, the branded campaign challenged TikTok creators to #MakeMomSmile in celebration of Mother's Day this year.
The original post was simple yet strategic:
Colgate challenges all TikTokers to #MakeMomSmile this Mother's Day! Whether it be breakfast in bed 🥞, a surprise delivery 🎁, or a dance-off challenge 💃, let your creativity guide you and share how you #MakeMomSmile 😁
Colgate then promoted the challenge on their social media channels to further encourage TikTokers to get in on the fun by creating content that would make their mothers smile. A unique way to drive your audience to create UGC that aligns with your brand's values, TikTok challenges can take almost any form. The successful video campaigns, however, have one thing in common: They are captivating enough for a brand's audience to want to participate in and easy enough for them to replicate.
Thus far, the #MakeMomSmile challenge has over 5.3 billion views on TikTok, proving that when live video challenges are done right, brands can gain thousands of new followers and millions of views. If you haven't incorporated live-streaming into your marketing campaigns, a video challenge can make a good starting point.
And don't be afraid to experiment with various platforms, from TikTok and Reels to Facebook Live and YouTube, until you find the ones that resonate most with your brand's audience.
2) 3D Printing Nerd's Live Unboxing Videos
If we're going to discuss videos that continue to amass views even months after being streamed live, we have to look at 3D Printing Nerd's live unboxing videos. 3D Printing Nerd is a channel devoted to the fascinating world of 3D printing. Here, Joe Telling and the 3D Printing Nerd team cover all levels of 3D printing, from hobby and consumer to the industrial additive manufacturing machines and businesses. And 3D Printing Nerd uses the channel to talk to others, find their story, and then enable those people to share their story through conversation.
The 3D Printing Nerds often team up with Thangs.com, sponsor of many of the channel's videos. In November, Thang.com sponsored the Nerds' live unboxing video "Mystery 3D Printer Unboxing – Let's Do This!" which streamed live and was also available for viewing post-stream. The recording attracted 25,565 views, which it attained in part because of the video's educational content. It didn't hurt that the recording promoted that 1,000 stream likes = 10 spools of Printed Solid Jessie PLA to give away, and viewers could enter throughout the live stream.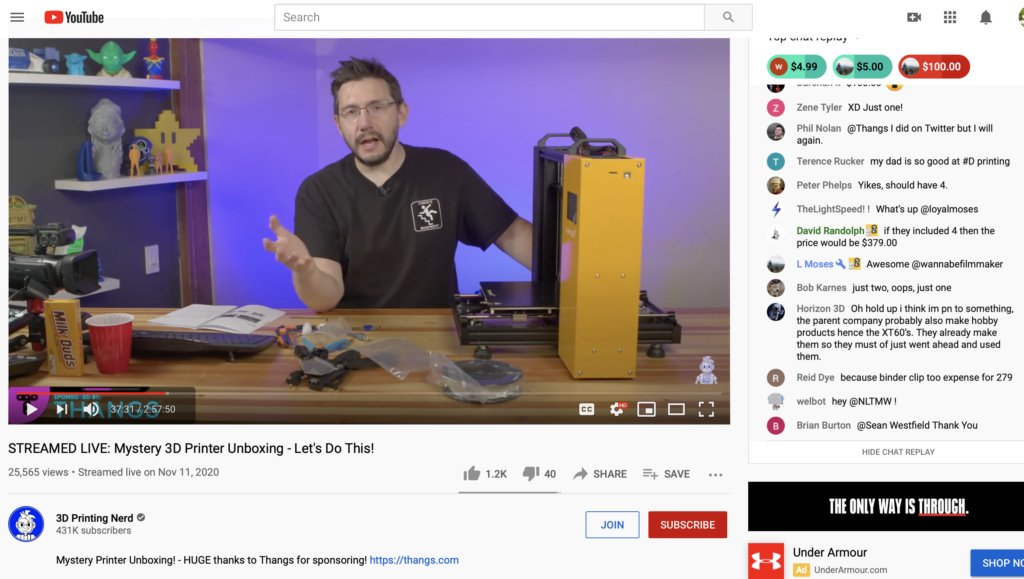 In live streaming, there will inevitably be hiccups. Names may get mispronounced. Printer pieces may go flying during the live unboxing and assembling. But these and other authentic moments make Joel and the 3D Printing Nerd team relatable (which in turn makes Thangs.com look good).
In the"Mystery 3D Printer Unboxing," the 3D Printing Nerd's do an excellent job balancing the recordings agenda and responding to chat comments. Joel has no qualms about stopping in the middle of his printer presentation to pull out the instruction manual and look up an answer to comments in the Chat.
If you are preparing to stream a live video to highlight a product, be intentional about engaging with users during the live stream through the Chat. Address questions and comments, even if it means you have to interrupt your presentation or agenda to do so.
3D Printing Nerd's do this throughout the nearly three-hour live stream, personally acknowledging comments with replies such as "Wannabefilmmaker, that's an incredible comment. I'm really happy that you've come by!"
For those who weren't able to catch the live stream, the channel ensures that users have access to the recording post-stream. It's worth noting that even the post-streaming video has 53 comments, many of which Joel has replied to.
If you haven't attempted streaming a live unboxing and you suspect that your product could benefit from the excitement of an unboxing video, reach out to brand ambassadors, video hosts, and channel moderators who have already mastered the art of unboxing, and have an established following.
Don't have a product? If your organization offers a service, then sponsoring a live-streamed unboxing may be the way to go. Who's to say you won't end up sponsoring one of the most viewed live unboxings of the year, as Thang.com did?
1) Chipotle's #TikTokTimeout Challenge
One of the first brands to get on board the TikTok train, Chipotle Mexican Grill is all about the live TikTok challenges. After their #ChipotleLidFlip and #GuacDance challenges proved a success in 2019, the brand followed that with its #TikTokTimeout challenge on Super Bowl Sunday this year.
Justin Bieber himself, along with brand superfans David Dobrik and Zach King, and other social influencers, spread delivery ads to their own social media audiences throughout the entire football game, encouraging users to create their own "February Free Delivery Sundays" ads set to Bieber's song "Yummy." Specifically, sponsored content was shared by influencers every time a team timeout was called during the game.
The result was a flood of user-generated live video in a short amount of time. Since feed algorithms give preference to live content, this was an effective approach to spreading the word about Chipotle and their delivery service.
After Bieber dropped details on the challenge to his over 230 million followers on Instagram and Twitter, the video-streaming campaign generated 2.5 million engagements. With the help of its impressive panel of influencers, Chipotle reached over 95 million people on TikTok through the branded hashtag challenge.
In order to ensure that your brand's hashtag campaign effectively targets new audiences and helps get the message out about your live video challenge, team up with popular influencers who will be relevant to your audience. Even if your company can't secure big-name influencers with large audiences (yet), you can partner with brand ambassadors, who have a smaller, but often more tight-knit audience.
Ambassadors and influencers can help your live video challenge gain momentum on Facebook Live, TikTok, Reels, or whatever app you are using. Regardless of who you choose to work with, ask video creators to be authentic and creative, while still adhering to your brand's standards. And think about how to best incorporate sound into the content, letting a specific song drive the content when possible.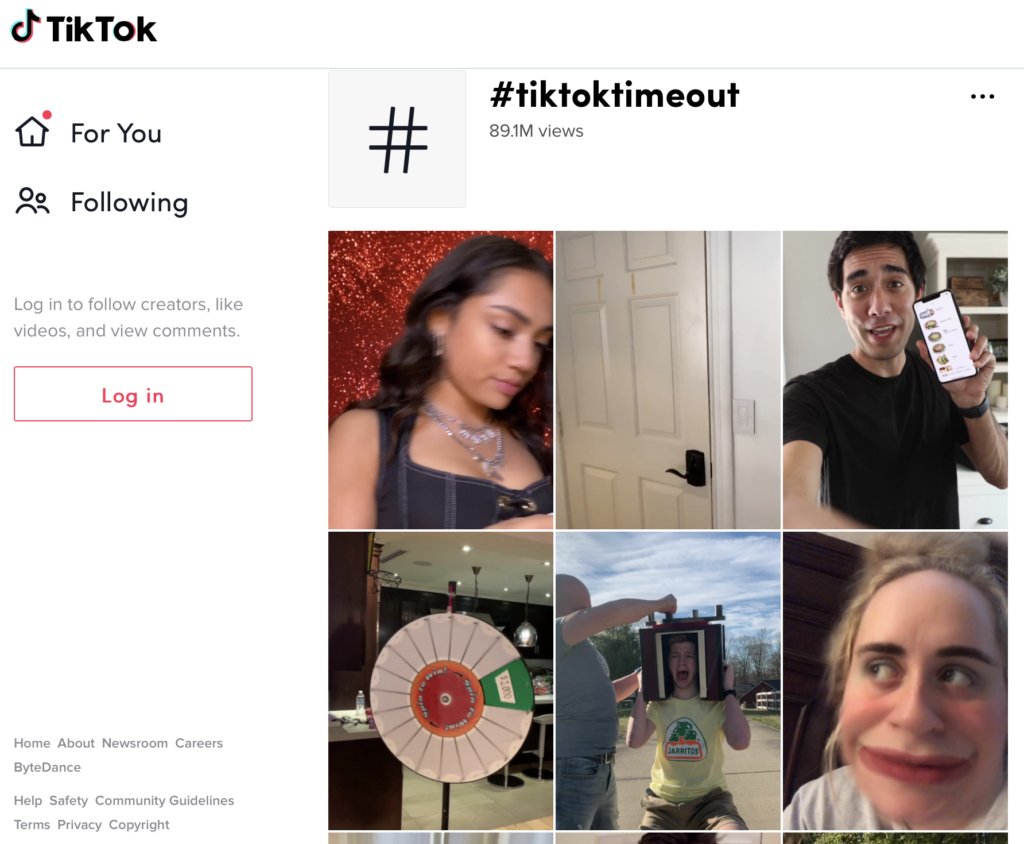 Conclusion
Real-time video can convey creativity and improve audience reach. And live broadcasting can be cost-efficient in comparison to other video marketing strategies. The benefits of video-streaming are undeniable. So are you ready to join the ranks of those brands that are reaping the benefits of live stream video? Great!
Just be aware that providing users with the ability to stream live video has made content moderation a more challenging process. And the results of faulty content moderation can be brand damaging and even horrific.
If you're planning a video-streaming campaign for 2021, but you're unsure of how to approach live broadcasting moderation, find a content moderation company that can offer guidance for managing live video and UGC risks through a hybrid moderation approach. Team up with a content moderation partner that has a proven training and quality control program for their in-house moderation team, and advanced AI capabilities for moderating videos as well. Additionally, they should provide an automated profanity filter service combined with more complex text analysis tools for flagging abuse, threats, and criminal activity.
Since live video is instant content, it opens up channels for direct communication between your brand and your audience, and demonstrates that you value your customers or clients enough to address them directly. Not only does live-streamed content establish your brand as trustworthy and relevant, but it conveys that you care about staying connected with them, no matter what global challenges arise.
Live video cultivates a connection with your audience that goes beyond mutual interest in a printer, or any other product or service. In the words of Joel the 3D Printing Nerd "Part of why I do this is [to make] a way for everybody to get away. There is a lot going on here in the U.S. and across the globe. And just for the time that we can be together streaming, I want this to be a positive, uplifting… camaraderie-driven good time."