Samsung is having an Unpacked event in San Francisco on February 20 and we expect to see at least three new phones, including the Samsung Galaxy S10+ with four cameras on the back and two on the front in a punch hole on the Infinity-O display.
There might be more than a month to the official launch, but the S10+ already appeared in a live photo. The rumors are true and there will be two selfie cameras, tucked in the upper right corner, while bezels look like they are getting even thinner than the Galaxy S9+.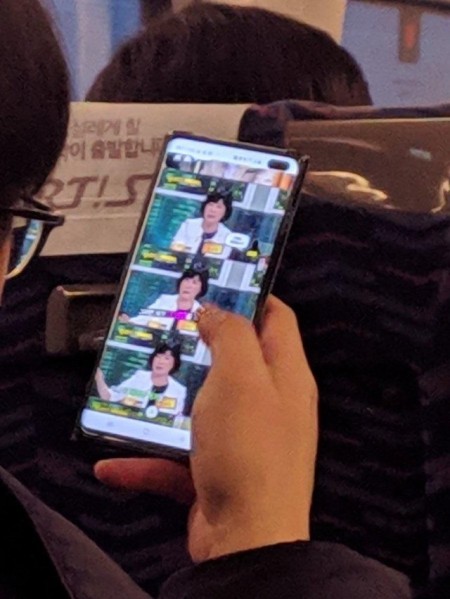 The posterd confirmed this is the Galaxy S10+ with a flip cover, but the user removed the watermark on the screen with the employee ID and the device SN. The picture was likely taken on the bus from/to the Suwon campus where Samsung Electronics's key facilities are. The device is still in its pre-production case that is used to hide the design until the very last moment.
The phone is reportedly lighter than a Galaxy Note9, despite being the same size. The hole on the top is not noticable at all, although he couldn't properly try gaming or video watching due to the watermark across the screen, therefore he can't share any thoughts on that issue. There is a fingerprint scanner under the display, but aside from these two technologies, the differences from last year's flagship aren't huge.
Having a camera cutout in the upper right corner is a different approach than the Galaxy A8s and the Honor View 20. This means all status bar icons will go slightly to the left, but there is still room for the clock, notifications, Bluetooth, Silent mode, W
["source-fobes"]