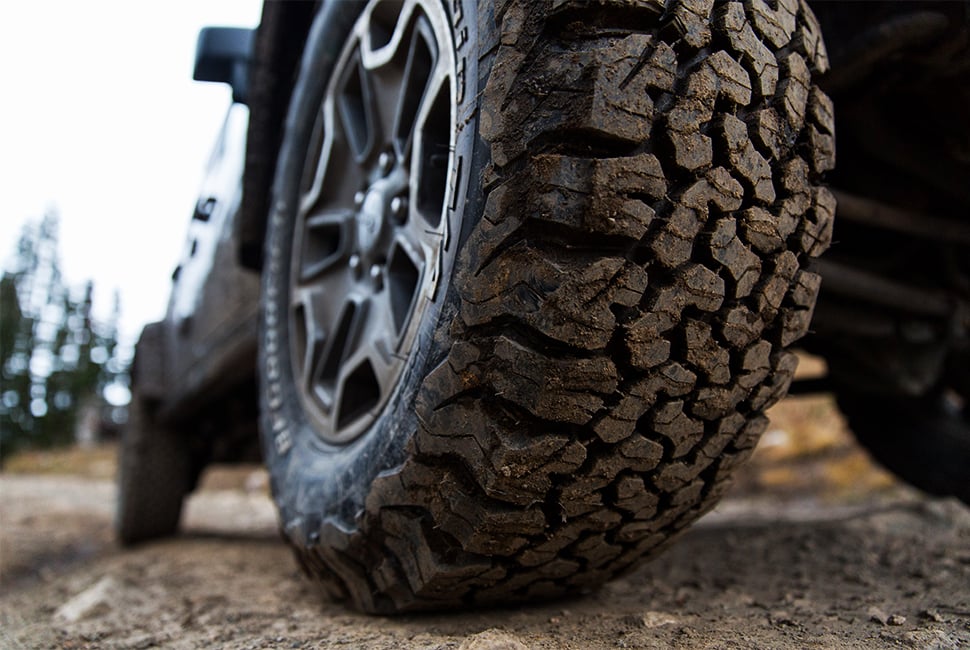 Whether it is in the middle of a cold winter, or a blistering summer afternoon, there is no bad time to load up the truck and head into the backcountry. With that in mind, these off-road tires will make sure that any of your backcountry adventures are flawless and you are not left getting stuck off of the beaten path.
Interco Super Swamper TSL/Bogger Tire
These are some of the most aggressive mud tires on the market that still remain street legal. If you are at all serious about adventuring through mud, sand and gravel, these could be the perfect tire for you. However, these bad boys wear down fast, which means they are not recommended for your ride if you are off-roading in the same vehicle that you do your day-to-day driving in.
BFGoodrich All-Terrain T/A KO2 All-Season Radial Tire
A perfect balance between off-road traction and on-road stability. The stiff sidewall of these tires means you will have reduced wobble when cornering on pavement, while the chunky treads will keep you gripped to the backwood trails, as well.
 Goodyear Fierce Attitude M/T Tire
An oldie, but a goodie. First launched in 2009, these tires are engineered in order to deliver some high-quality performances in mud and tough terrain, all while not losing any of their performance when taken on-road after a day of adventuring. A great bang for your buck. 
Mickey Thompson Baja Claw TTC Radial Tire
Mickey Thompson is known for making some high-quality performance tires across all the faces of motorsports. So, it is no surprise that they make some tough tires that are able to offer outstanding traction – even on the softest of terrain. They are even a decent rock-crawling tire, as well.
This post was written by Justin K, owner of Wheel Identity. Wheel Identity is Tampa Bay's premier custom shop. We carry Tires and Rims in Tampa for every vehicle, custom suspension kits, and all accessories for the interior or exterior of your vehicle. We only hire highly trained technicians using state-of-the-art equipment with experience in all areas of tire, wheel, suspension, and 4×4 needs.